The whisper of the Farm is spreading quietly from its base here in the Valley. We, the Dreamers, however, are not feeling so meek. We laid down a hefty proposition before our Happy Valley Conference Center Community and ourselves- weighing the costs and fantasizing the benefits- and now have hit the ground planting!
A sturdy raised four by eighteen foot bed cradles our first crops, now bountiful indeed with pumpkins, watermelons, bush beans, beets, radishes, kale, lime basil, spinach, arugula, chard, collards, turnips, brussel sprouts, cabbage, and even a few brave carrots. This has been our starter garden, and our soil mixture of compost, vermiculite, and peat moss has proven its substantial nutritional value to the plants.
We have begun a sustainable composting method, collecting our kitchen scraps to reduce food waste in order to stimulate natural organic breakdown and produce our own rich soil to nourish more plants. We are very proud, yet humbled by our accomplishments moving forward to a sustainable farm-to-table operation.
Not only will we feed our customers quality food, but also we will be able to offer life-influencing experiences in the growing, nurturing process of producing our bodies' fuel. Programming will take campers to the garden, educating them about growing – an art that has been lost to the corporations of mass production and maximized efficiency.
What more have we lost with the alienation of growing food at home, sowing, caring, and harvesting with our mother and father, brother and sister, neighbor and friend? Valuable learning experiences in skill and interaction are reaped from understanding the process of giving care to an essential supply of nourishment from seed to vegetable. It is humbling and enriching indeed.
We want to share this with our community and beyond, to show how to get back to the basics and truly enhance people's lives and the lives of their loved ones.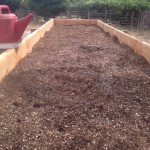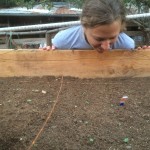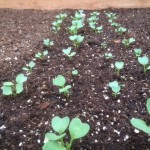 My confidence in my ability to effectively grow food has soared with the successful establishment of our first Square Foot Garden attempt. We have a working compost system, so we no longer have to pay for compost at the store (sustainable!). I have taken meager quantities from the garden to the kitchen to be served to a few lucky campers during meal times, but this is no tiny accomplishment. We are making our way. Slowly the garden is growing.
Our beginning starts in the confines of what was previously a horse corral on the adjacent north forty acres of property we have recently acquired. The corral is about ninety by eighty feet of fenced-in dirt, decorated by some pear and suspected pear-apple trees (the previous owner busied himself with grafting fruit trees… how cool!), and even a chicken coop.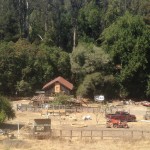 The variety of our first large garden bed has been really neat to tend to, but right now we have such small yields of each plant that it's unrealistic to try and feed an entire group of thirty people one particular vegetable. So we shall zero in, in order to maximize. I have added a smaller, simpler four by four foot garden box to begin our specialized growing. In it I have planted spinach, arugula, kale, and some super sugar snap peas (wow!). The latter require a trellis, so I've summoned my creative genes from their deep slumber and have erected: two poles with string strung across. 🙂 I'm so impressed with myself. Remember, it's half about your personal journey, in whatever you do.
Yes, the little sprouts are introducing themselves to the world with the help of loving watering and the ever-reliable shining sun!
For now, I keep myself busy with planning, planting, turning, and watering. I'll let you know how my progress is coming, next week!