This week has been a week filled with memories I will always cherish. It started with going on a camping trip to Big Basin. I had never gone camping before and I was excited to try this new experience. When we first got to Big Basin, I had no cellphone service and so my significant other was sad because she could not talk to me for the next couple of days. However, that was not important because I was ready for the adventure.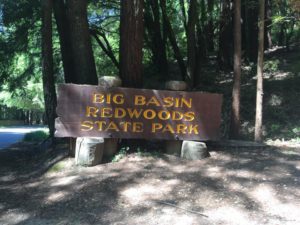 I was getting bit left and right by horrible bloodsuckers known as mosquitoes, but luckily I drenched myself in mosquito spray. It was a beautiful time to grill burgers and I also got to shuck corn for the first time. The stars were also out and they looked beautiful. I got to see Mars and Jupiter, which was really cool cause I did not know you could see these planets from Earth. Later that night we made smores, which I have never done myself. Then we went talked for a little while around the campfire and then I got to sleep in a tent. A lot of people had said sleeping in a tent was going to be brutal but it was a great experience to sleep in a tent and look up and see the stars in between the red wood trees.
The next morning we started off with an amazing breakfast and then we started on our first hike. It was only a forty-five minute hike but we got to see some huge trees. The trees were enormous and it was an amazing sight to see because Texas definitely does not have trees this huge. After our hike we came back to our camp and had a quick lunch and then preceded for a three hour long hike. It was an amazing time and I got to talk to all the other interns about life. We got to see a waterfall and more Red Woods and the total distance of hiking was over 9 miles! This experience is a memory I will always remember because it was my first camping trip. Despite my girlfriend being upset that I had no service, she definitely heard every detail of my trip and she did not hold her grudge.
Another part of this week that was an amazing accomplishment was becoming a lifeguard. I was a horrible swimmer just three weeks ago and could not manage to swim one lap without stopping. I also could not force myself to touch the bottom of the pool and it was difficult for me to float. However, these past three weeks I put in a lot of work and effort and managed to pass my lifeguard test! The test included 15 laps without stopping and treading water for two minutes without stopping. The test also included swimming a lap and retrieving a brick from the bottom of the pool and swimming another lap with it all under one minute and forty seconds. There were other tests involved with lifeguarding but these were the tests that I struggled with in the beginning. I am glad I was able to become a lifeguard and I will continue to become a better swimmer.