A few weeks ago, my Mom and my sister flew out from Kansas to come visit me (and my Mom's cousin.) Yay!
I took them all around to see Santa Cruz's HUGE downtown area. And we walked down the beach and saw the boardwalk. They stayed here one night and then I took them on a hike to the top of the world before they left again.
My Mom is notorious for having a terrible photo-smile, but I caught a real laugh just for you, blog readers!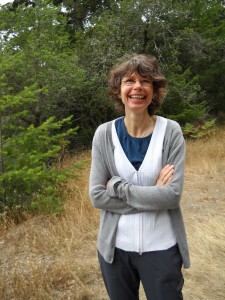 I would also like to point out that my Mom said while we were hiking, "I really understand now why you need more signs and better trails in here. Even though there are trails it would be easy to get lost hiking." True, dat, Mom. I think there were three or four spots, where I had to hike ahead to make sure we were going the right direction, but I figured it all out correctly in the end. You can just call me Sherpa Antonia.
My sister is sometimes not a fan of posing for pictures.
Anyway, that's all for now folks! See you soon!
-Antonia