Tragedy has befallen the garden this week.
The night after I transplanted cherry tomato and pepper starts into the greenhouse, strong winds demolished the structure and cold temperatures mercilessly killed all but three of the young tomato plants. There were a few pepper casualties as well.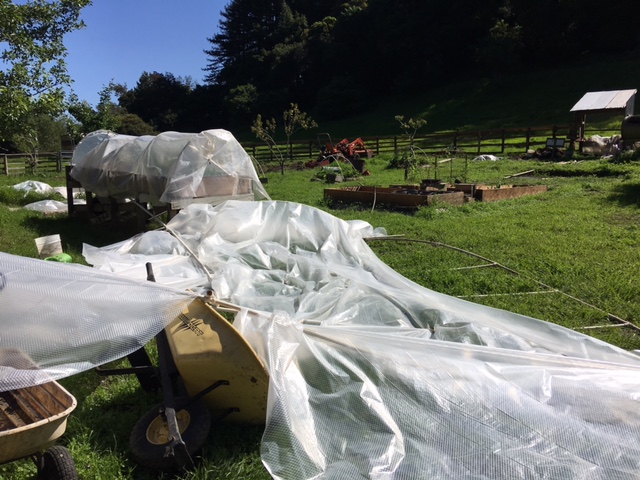 The good news is, I have an incredibly supportive team of can-doers who took the time out of their work day to help rebuild. As sad as it is to have lost many plants and the greenhouse, this has given us the chance to erect the greenhouse as Donald and I originally planned, with doors!
Tim was there…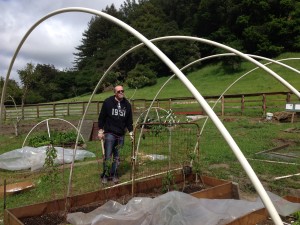 And Donald too…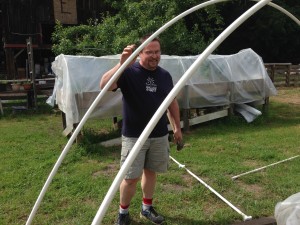 Of course Tess wouldn't miss out on watching Donald "make the call of his people" so he said…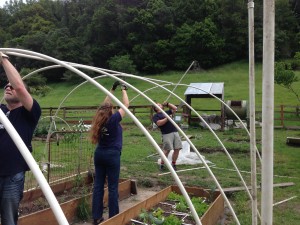 Then, while Tess and I did some plant surgery on the lavender…
…Tim managed gopher control!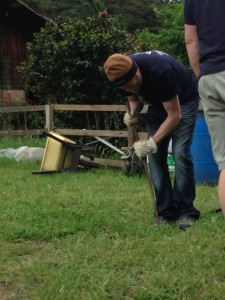 Now, we have a greenhouse structure in place, ready for plastic to be clamped on. It's been a rainy day today, which the plants are loving!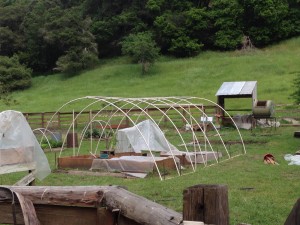 No matter how ruined you think your plan has become, no matter how irreversible it may seem to be, with the help and support of those who care and a bit of your own determination, you can build it back up again.
Good luck in all your endeavors. See you next week!