Hey, World! I thought I would provide some pictures to the projects I've been working on for the conceptual project! Because I have and am familiar with graphic programs, I get to do a lot of map-creating! But because measuring the physical space takes time, I've been working off of blue prints I find in the attic! So today, I thought I'd walk you through that process!
So I went through all of these blue prints, searching for ones that were of places I needed to map, and were updated. I found a lot of blue prints for planned renovations of the Camp Director's house, that never happened! Those look pretty cool–Tim and Lisa would have had an upstairs and a garage! Mostly I looked for maps of the lodge that included the upstairs, maps of the main grounds (including the current buildings,) and maps of the entire grounds. (Last week I even found giant maps of the trails how they once were planned to be!)
The lodge maps I used ended up being blueprints from the 1960s (1965, to be exact) because those maps included the upstairs levels as well as a fairly complete downstairs floor plan. I had to measure the bathroom addition, the patio and the two decks myself and convert them to the appropriate size.
After completing the map itself, I've also created versions of the map that have spots on them to refer to Brooke's sign index, so we can clearly show people where to put the signs we recommend in the project. In addition, we hope that the maps will be posted to help people orient themselves.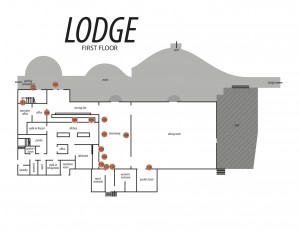 Right now I'm working on creating a map of the main camp grounds that we'll use to show where to post more signs. In addition, a colorful version of the building map can be posted on the campgrounds to help people new to the campgrounds orient themselves, and published in brochures. You'll get to see that sometime in the next week and a half, as we're getting closer and closer to the big presentation!
Until next time!
-Antonia