The drive was long and lasted 17 hours, the mountains of western Wyoming and eastern Utah caused a lasting memory of winding roads, the salt flats of north west Utah and the desolation of Nevada made the drive unbearable, and the traffic of California mind numbing. When all said and done, I reached my destination with a breath of fresh air and a realization that Happy Valley would now be my home for the next year!  As I took my first steps out of my car onto the campground, I had no idea where to go or who to talk to. I wandered a bit more, not knowing which way to go until I found the first person walking through the camp parking lot – Sean, a cook in the kitchen, happened to just be leaving and so we took the time to introduce ourselves and with a joyful welcome he pointed me to the direction I needed to go!
The other interns looked busy as they were just finishing up some last minute chores for the day. Yet the excitement of Karli and Stanley drew them out of there chores and soon the attention was on me. We called Tim and I soon met everyone else!  I felt like I was home!
The next week was a challenge and still has proven so. As the other interns knew the direction of the task at hand, I stood there pondering in which direction I faced, what Pinecone they where talking about, where the plants were supposed to go, and what creekside meant, because for all I knew there was two sides. It was an adventure that couldn't wait, and I was willing to start the discovery!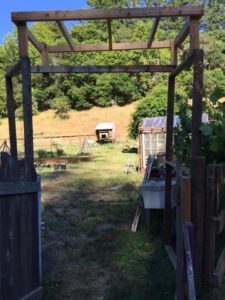 Our Garden Entrance
We started work right away, went to the garden to fill me in, cleaned up areas of the camp that needed some love, and so much more, but out of all the tasks we had started and finished preparing for reunion, the bonding and getting to know the other interns was truly the biggest adventure. So far I have learned so much about each member of the group. Karli is compassionate for all creatures (except the cabbage eating caterpillars). Stanley is the comedian with an understanding of true love, Brickell being the first to volunteer and always give a helping hand. Mikayala is a amazing human who is always the first one to be involved with our groups. And Maya always offers so much intelligence and elegance to the group.  I shouldn't though leave out the the brains, bronze, or leadership we have and if we didn't would make all of our jobs impossible.  Tess and Amanda have this place locked, loaded and ready to go for all of our camps and staff, Donald and his staff maintain the attributes to all life on the campgrounds, and our leader Tim keeps us in check making sure we all are on task (sometimes we make sure he is as well).  What I'm trying to say is that all these people I've mentioned have kicked this internship off for me in ways that I could fully not explain.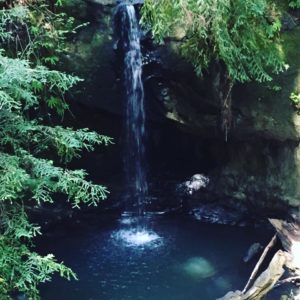 An Adventure is out there!
I've done so many things and I will continue to keep you updated.