Happy Holidays from Happy Valley Farms! I hope you have spent the holiday in a comfortable, pleasing environment. I personally have been blessed to reunite with my family in Houston for a warm, humid week.
The year of 2015 has passed, thus it is appropriate to take advantage of this time to reflect on our progresses, accomplishments, and life lessons. I know we have a lot to debrief! For example, we learned compost breaks down to half its size once decomposed, which also applies to putting it through a wood chipper at the front end of the process! (This fact substantially affects the amount we can begin with).
We learned that in order to successfully run a system which requires the cooperation of many employees within the cycle, you must communicate a clear protocol. When people are unsure of what the plan of action is, it is difficult to feel confident in implementation. Therefore, we now have a Compost Calendar.
Since we are starting from the ground, we don't know right away the most efficient way to operate this system as a whole. We can analyze and learn from the experiences of other farms, but we realize that each new process must take its course within its own system. To understand, one must understand through experience. Piece by piece we are identifying needs, improvements, and possibilities.
Just as you have been hearing of my personal growth, the bounty of our little garden very visibly exhibits the attention and care that many of us at Happy Valley have administered to it.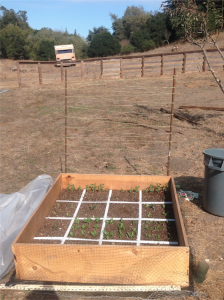 The satisfaction I am able to experience through planting, watering, seeing the sprouts first emerge, and watching and helping them to flourish is such that I couldn't have imagined prior to this experience.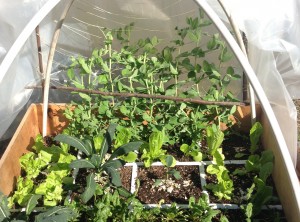 This little bed has 20 lettuce plants which have produced more than 5 pounds of food; 3 square feet of spinach have produced 4 pounds of spinach; and 6 plants of kale have yielded around 20 pounds of greens – all since October! I cannot express disappointment in the slightest!
I have learned the necessity of  protecting the plants from pests, because they look much tastier when the leafy fibers are fully intact.
In order to garden and sustain a conference center, it is crucial to plan. To begin gardening, we found out when the Santa Cruz frost dates and planting seasons are. We sift through gardening books and websites to understand what type of care certain plants require from planting to harvesting, and we do the math to figure the dates upon which our harvest will fall. We have to know how much to plant. So we need to know how to plan.
With staggered planting every two weeks or so, we can spread out our harvest season. These broccoli seeds will be available for harvest April through May (provided we encounter minimum hiccups!), and I will continue planting new seeds to grow indoors through January.
We have begun to plan our first garden programming opportunities with a Community of Christ Senior High/Junior High group at the end of January. We hope to, as well as make advancements in the garden, gain a feel for what programming can look like for our unique facility. If we wish to make this an essential part of our system, we need to get our hands dirty with this privileged client (Resources and suggestions wholeheartedly welcomed).
I am super pumped about this youth event at the end of January. Why? Because I envision what this educational, engaging time in the garden is the start of! Think about the immediate and residual effects of teaching young people how to prepare, build, and start – to create a garden full of FOOD! These lucky students are going to build raised beds and mix the most nutritious soil, and they'll till rows to welcome seeds, and they will walk away with, if nothing else, the knowledge and experience of creating a garden. They could make their own at home as a result, perhaps someday in ten years they'll help start one at a school or church, and guess what? In 20 years when they bring their kids to these sacred grounds of ministry, those kids will have the opportunity to learn from and carry on the legacy their parents started as youth. I find that incredible! This garden isn't just now, only here. This garden is impactful and far-reaching in its ministry, feeding people today, next summer, around the world, and forever.
My hope for this garden is to fill empty gaps in our understanding of wellness, and our understanding of the control we behold over our wellness. All walks of life are susceptible to this enrichment, which is why we are taking on the challenge of opening this wondrous world to our guests. We want to give you, a developing disciple, something from our hearts that is inspiring and empowering in the moment as well as will walk with you for your lifetime. I can give you all I have to offer, and I also hope to, as I said, inspire you, our guests, to walk away with the capacity to build this ever-giving gift in your own home, in your community, in our vast world.
As Happy Valley grows into its potential through helping and educating those who pass through, we grow as a facility. Every group is a chance for programming, which will indelibly gain us experience and confidence in our cause. So if you so please, please get invested in us and in our mission. We appreciate you who have shown interest and shared resources and knowledge with us, and your willingness to be a part of this with us. We are so excited about our rich future!
I could fill pages with all the things I have learned about how to garden and how to communicate about gardening and the goals and potentials of our facility. I hope through these blog postings, if you follow along from week to week, you are able to gain enough knowledge and inspiration to plant a seed of your own, to then be transfixed by its responsiveness to your care, and to feel the pride and deep appreciation of the once little baby plant that can provide you food to eat. Don't you know? Food fuels all of our potential in life. An investment in plants is taking direct control over your personal fuel – ethanol or diesel, renewable or not? And thus your quality of life – how well you operate physically and mentally – is influenced. It's cheaper, it's sustainable, and it gives you added purpose. I hope you consider your possibilities as you enter another year of life in your wonderful body.
Blessings From Happy Valley Conference Center. 🙂