"It's really simple; All you have to do is BE. NICE."-Tess Nichols
Throughout the last couple weeks, I have learned the power of hospitality services. Happy Valley goes above and beyond to serve in many different ways, but one of the most obvious examples comes with hospitality.
Every week we are shifted at least once, if not multiple times, to provide guest services in the office. However, hospitality doesn't just end at smiling and answering questions. It includes refreshing the beverage bar, cleaning bathrooms, coordinating with camp directors, supporting the kitchen, and making sure everything runs smoothly!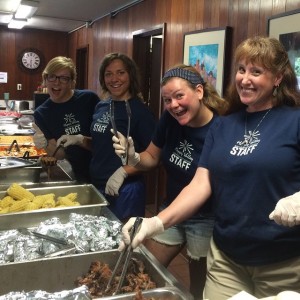 As evidenced by hospitality queens Amanda and Tess, I've learned that even if you can't answer every question or fix every problem, most things can be remedied with a sunny attitude!
This extends to intern experiences as lifeguards, grounds workers, and even dishwashers! At Happy Valley, we are always working to provide excellent service with excellent attitudes!